The Carnival of Santa Cruz de Tenerife is held each February in Santa Cruz de Tenerife, the capital of the largest of the Canary Islands, and attracts people from all over the world. It is considered the second most popular and internationally known carnival, after the one held in Rio de Janeiro (Brazil). Partially for this reason, the city of Santa Cruz de Tenerife is twinned with the city of Rio de Janeiro.
In 1980, it was declared a Tourist Festival of International Interest by the Secretary of State for Tourism.
As the Mayor of Santa Cruz de Tenerife said in the Carnaval de Tenerife site, "Santa Cruz returns to meet up with their biggest party, that await eagerly thousands chicharreros and Tenerife; one that arouses the interest of visitors and tourists; one that is followed to the minute around the world and, above all, comes the party that takes us back to all the universe more fun and transgressive.The Carnival already has arrived. The city opens to the world a year more to spread joy and vacilón, day and night; to enjoy with family or friends, to admire the creativity, imagination and fantasy of those who designed the costumes and the self-confidence and humor of those who wear them.In this edition we have prepared luggage to travel to the Caribbean, generic theme of the feast that symbolically, I am fully convinced, it will give much play at the Carnival. But we will also travel for the rest of the world, because we have the greatest national and international coverage of Carnival with broadcasts of TVE, guaranteed in a deployment according to their category of Festival of international tourist interest."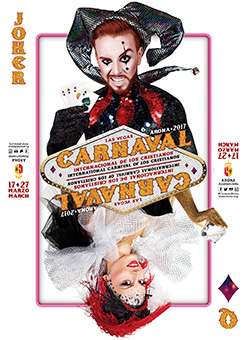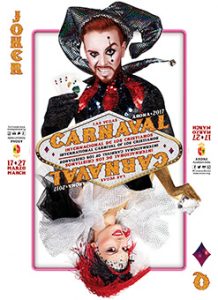 In the south of the island, the Playa de los Cristianos is one of the Island's most touristy areas and also holds its own carnival celebrations one week after the capital. As usual, the streets host the typical carnival queen election gala as the first event in a fun-packed carnival programme. The theme chosen for this edition, has focused on a double poker card with the jeweler and the queen of diamonds. The party will be from 17 to 27 March.
We hope you enjoy it!
FUENTES |
Wikipedia
Carnaval de Tenerife Official Site