What is it about The Corner Café that at 10:00 am, minutes before it opens its doors, there are always people waiting to come in? The smell of coffee fills the whole square at the entrance of The Corner Shopping Centre. The idea of having a great breakfast with fresh pastries, juice and something hot and relaxing before you go sunbathing on the beach Playa del Duque is fantastic. This is the secret of our café.
A VITAMIN BREAKFAST – THE HEALTHIEST OPTION
If you prefer to start your day off with good food, the healthiest option is a nice orange juice (ideal for our skin and to enhance the tan, because orange, red and yellow fruit contains beta-carotenes). A big bowl of fruit is also a very refreshing alternative, perfect to begin the day with vitamins. Herbal tea or green tea are the healthiest and the most natural drinks that provide you with all the benefits of plants. Will you still be hungry? Don't wait! Order some delicious toast with a drizzle of olive oil and enjoy a healthy breakfast.
START YOUR DAY OFF WITH A TREAT – HAVE A TRADITIONAL BREAKFAST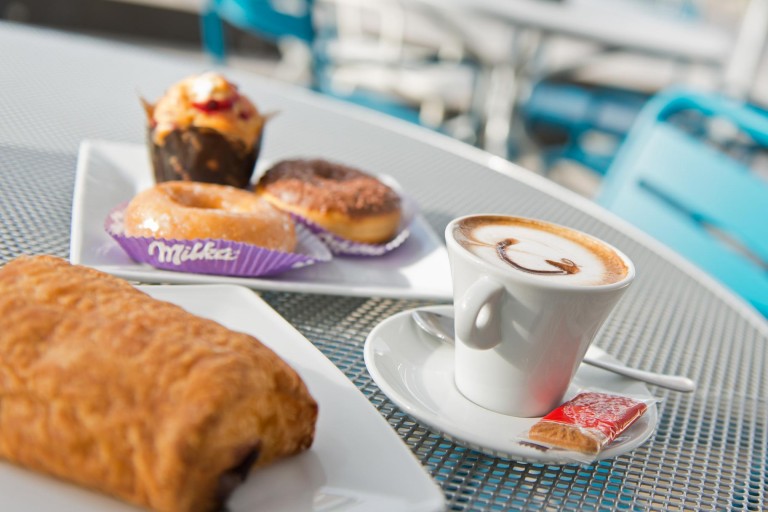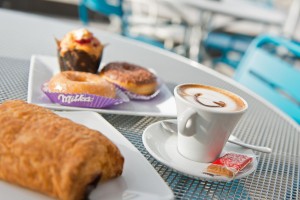 Who could resist a freshly made pastry and a splendid milky coffee? A classic traditional breakfast tastes even better on our terrace; the smell of coffee, the irresistible taste of croissants, the sweet jam, some crusty toast… Imagine starting your day off with a nice treat, beside the sea. There is a wide range of hot beverages in our café. Our yummy pastries are very tempting.  But the best is definitely the relaxing atmosphere and the feeling that time stops for you to unwind for a while.
Please come and find out for yourself. Afterwards you can go shopping in our fashion and accessory, footwear, parapharmacy and electronics stores and the supermarket. Enjoy the best experiences with us just 50 meters away from the beach, in one of the most important places of South Tenerife.