Are there in your wardrobe  space for new fashion? Perfect! Because then the fashion trends can move 2016 spring / summer with you!
It´S okay,  some of the trends that we encounter on the catwalks of fashion weeks, are not a bit suitable for everyday use. That is why we have the fashion trends spring / summer 2016 a portability check subjected. We tell you how you can implement the latest trends super easy. Look for…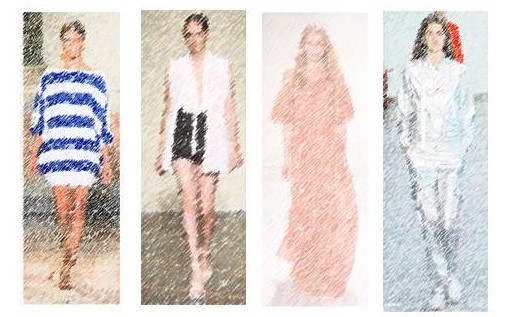 STRIPS ARE THE TREND PATTERNS. This season, we can not get around strip. Whether longitudinal or transverse, thick or thin…
BLACK AND WHITE IS THE TREND-COMBI. Already last year the black and white look was announced. And this year the contrast combi should be represented in any wardrobe. Whether black jackets with white stripes or black pants combined with a white blouse: Never has so easy.
DELICATE ROMANCE. No summer without blouses and dresses in lace! The romantic look also belongs in the spring / summer 2016 fashion trends. Particularly sweet: The combination of delicate lace and floral prints.
METALLIC LOOKS ARE IN! The main thing it shines, the designers made at ease when designing their spring / summer collections 2016. You have neatly packed glitter and sequins on the clothes and fed arrived at metallic materials to really shimmers and sparkles all.
And remember that in a privileged spot in Costa Adeje, Tenerife, on the seafront and strategically located within an incredible environment, you have at your disposal The Corner Shopping Center: A place to find the best trends in our best brands fashion boutiques & accessories.